NU VELE AANBIEDINGEN BIJ DRAGONHEART.........KLIK SNEL OP DE CATEGORIE AANBIEDINGEN!!

Ridderwebshop Dragonheart
Al meer dan 20 jaar een begrip in Europa!
Mijn bestellijst
0 productenproductproducten
Bekijk bestelling
Product is toegevoegd aan de bestellijst
Terug naar overzicht
Lord Of the Rings Hadhafang Zwaard Arwen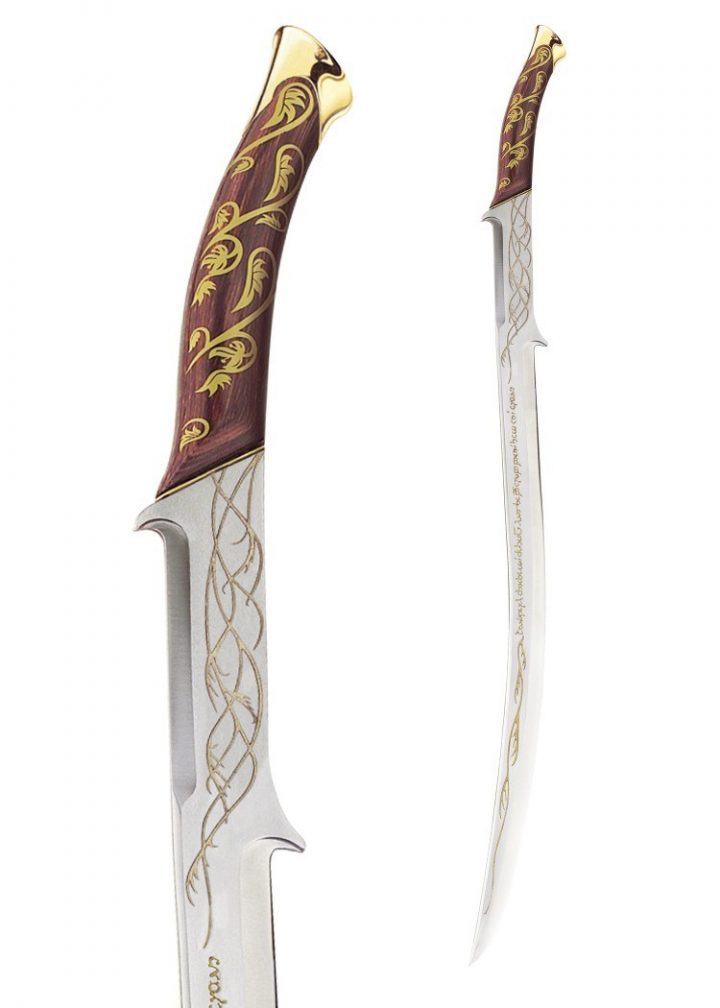 Lord Of the Rings Hadhafang Zwaard Arwen
€ 379.95
Plaats op bestellijst
Artikelcode: DHBMUC-1298
Lord of the Rings - Hadhafang, the Sword of Arwen!
Officially licensed movie replica from The Lord of the Rings, by United Cutlery
Arwen's sword is called Hadhafang, which means throng cleaver. It once belonged to the Elven princess Idril, who wed a mortal man and bore Earendil, the father of Elrond, who in turn was father to Arwen. At the end of the Second Age of Middle-Earth, before Arwen was born, Elrond wielded Hadhafang during the Last Alliance of Elves and Men in the great battle against Sauron. Later, his daughter Arwen used this mighty sword when she aided Frodo in his escape from the Ringwraiths (Nazgûl).
Inscribed on the blade are runes in the Elven language of Sindarin that say: aen estar Hadhafang i chathol hen, thand arod dan i thang an i Arwen, which translates to: This blade is called Hadhafang, a noble defense against the enemy throng for a noble lady. There is an intentional pun in the inscription, as the Sindarin translation of "noble lady" is arwen. So in effect, the blade claims to be for Arwen even though it was made for her great-grandmother Idril.
This authentically detailed collectible is an officially licensed reproduction of the sword wielded by Arwen in The Lord of the Rings movie trilogy. United Cutlery, industry leader in fine movie reproductions, has meticulously recreated the actual prop sword using only the finest grade materials and craftsmanship. Close attention to detail was a top priority.
This beautiful sword features a wooden handle adorned with Elven vine designs and equipped with a solid metal pommel. The sharp-edged blade is crafted of tempered 420 stainless steel and inscribed with runes. This item includes a wooden display stand with silkscreened design and a certificate of authenticity.
Details:
- Blade material: tempered 420 J2 stainless steel
- Handle material: wooden grip with Elven vine designs, solid metal pommel
- Overall length: approx. 96.8 cm
- Blade length: approx. 76.2 cm
- Blade thickness: approx. 6.4 mm
- Wooden display stand with silkscreen design
- Certificate of authenticity
- Manufacturer's Product No.: UC1298