Ridderwebshop Dragonheart
Al meer dan 20 jaar een begrip in Europa!
Mijn bestellijst
0 productenproductproducten
Bekijk bestelling
Product is toegevoegd aan de bestellijst
Terug naar overzicht
Romeins Gladius Zwaard met Schede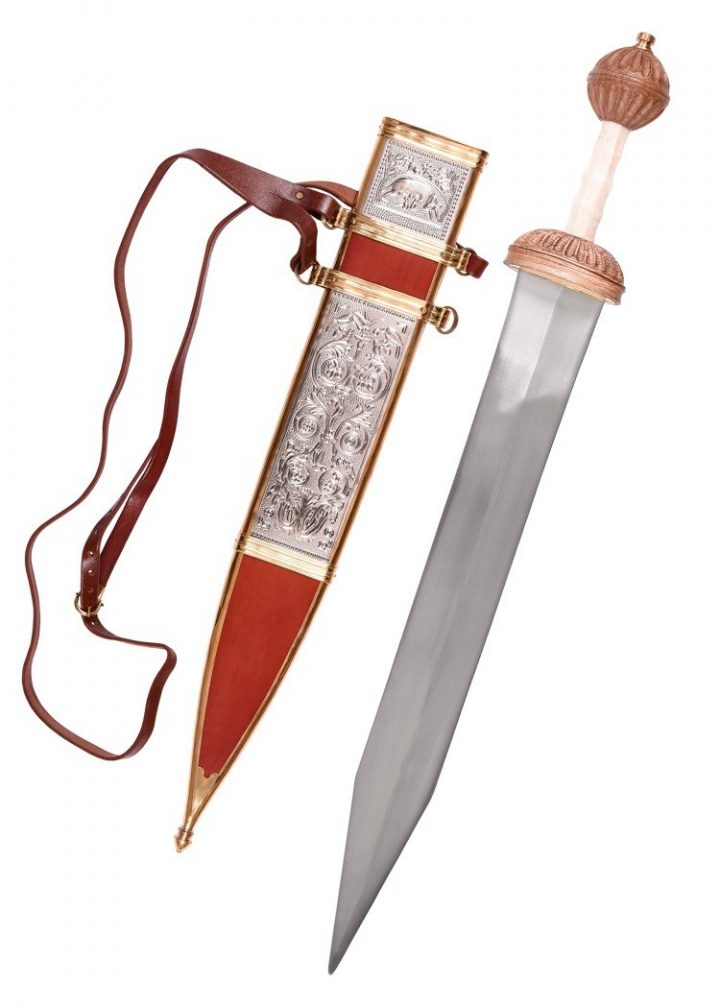 Romeins Gladius Zwaard met Schede
€ 165.95
Plaats op bestellijst
Artikelcode: DHBM-0180000800
Fulham Gladius Mainz type, with scabbard.
One of the main weapons with which the legionaries of Rome conquered large parts of the then known world was the short sword (Gladius). The different types are categorized primarily on the basis of the blade.
This gladius is of the Mainz type and based on one found in Fulham (UK) with a double-edged blade. It was extremely efficient for cutting and stabbing techniques during battle and was a highly feared weapon.
The replica has been manufactured using EN45 spring steel (The blade is not sharpened), and the handle is crafted from wood and bone. The richly decorated sword scabbard is made of leather-wrapped wood with brass and sheet metal fittings; and a leather strap which is attached to the support rings, ensures comfortable carrying of the sword.
Key Features: - Gladius Type Mainz - Adorned Scabbard - With leather carrying strapDetails: - Blade material: EN45 spring steel - Overall length: approx. 63.5 cm - Blade length: approx. 43.5 cm - Grip length: approx. 20 cm - weight: approx. 840 g Specs may slightly vary from piece to piece.