Ridderwinkel Dragonheart
De grootste ridderwinkel van Europa!
Mijn bestellijst
0 productenproductproducten
Bekijk bestelling
Product is toegevoegd aan de bestellijst
Terug naar overzicht
Viking Zwaard 900 ad.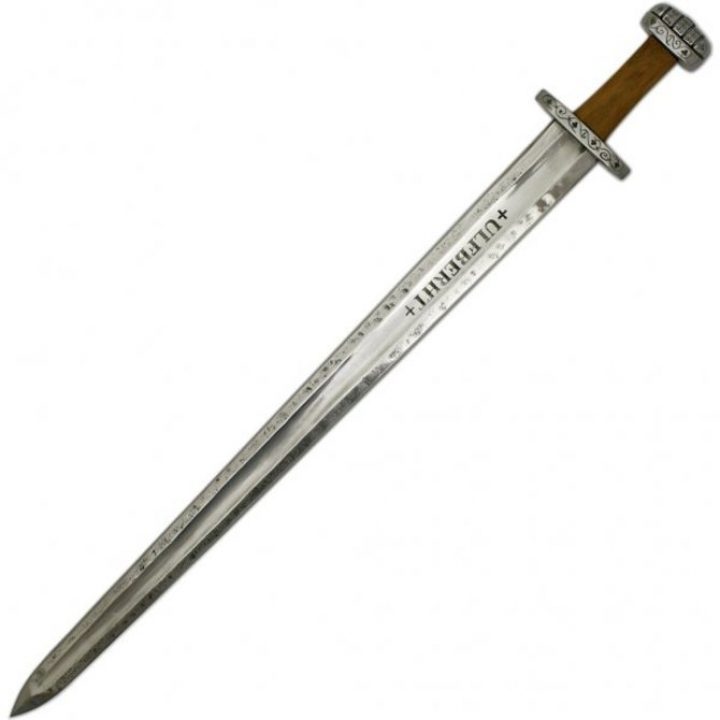 Viking Zwaard 900 ad.
Vanaf € 359.95
Plaats op bestellijst
Artikelcode: hvmo-5111
Battle Ready Viking Sword.
This is a replica of an original sword that was found in Ballinderry(Ireland), it is dated to around 900ad.
The sword has two guards.

The upper guard (below the pommel) is 1,5 cm wide and approximately 65 mm long.

It has organic motives on both sides (back and front).

The lower guard is 1,4 cm wide and 11 cm long.

This guard has engraving on all for the sides: organic motives on front and back, the name HILTIPREHT on the upper side and a "rabit ears" motive on the lower side.

Hand-forged blade.

Blade made of spring steel CSN 14260 (Din 54SiCr6 | GOST 60S2CHA)

Hardness of the blade 53 HRC

Richly engraved blade, pommel and guard.

The hilt is made of hard wood (beech or oak).

Overall length: 938 mm

Blade length: 791 mm

Lower guard length: 108 mm

Upper guard length: 65 mm

Blade section at base: 55*5 mm

Blade section 10cm distant from the pont: 32*4 mm

Point of balance (POB) 16cm from the guard

Weight: 1430 g (sword with sharp blade)