Ridderwebshop Dragonheart
Al meer dan 20 jaar een begrip in Europa!
Mijn bestellijst
0 productenproductproducten
Bekijk bestelling
Product is toegevoegd aan de bestellijst
Terug naar overzicht
Viking Zwaard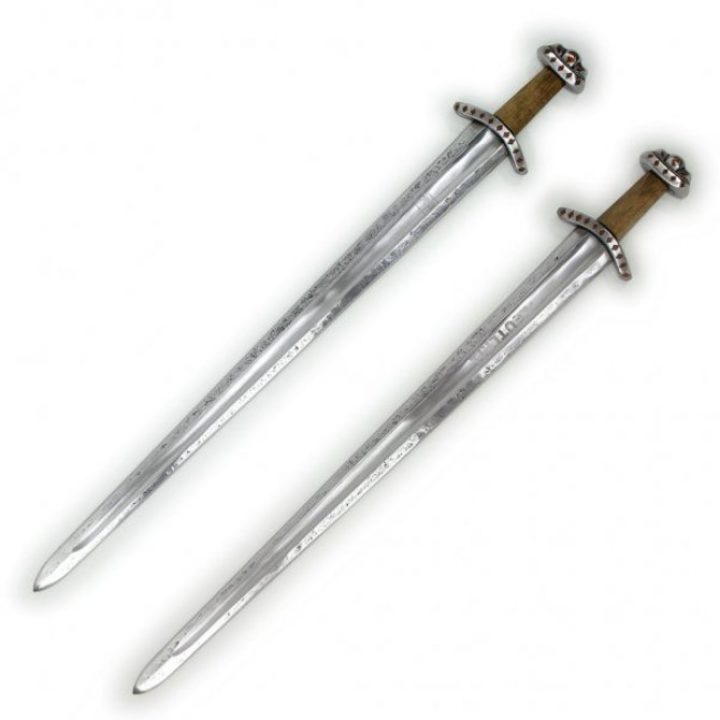 Viking Zwaard
Vanaf € 359.00
Plaats op bestellijst
Artikelcode: hvmo-5113
Battle Ready Viking Sword.
This is a museum replica of a Viking or Saxon sword found in the River Witham at Monks Abbey in England.
The original is kept in the British Museum in London.

It is a custom-made masterpiece of a Czech blacksmith.

The wide blade fuller is engraved

from one side with "+LEUTRIT" (the second letter T is upside down)

from the second side wish a styled S-shaped sign.

Specifications of the River Witham Viking sword

The pommel and guard are inlaid with copper checked motives. The handle is made of hard wooden.

The blade-tang is covered with hardwood and forms a firm grip

The blade is hand forged from spring steel and is hardened

The blade has a sharp edge and is therefore not suitable for (stage) sword combats!

Technical specifications of the sword

91.5 cm - Total length

77.5 cm - Blade length

12 cm - length of the guard

12cm - POB, measured from the guard

59 * 5 mm - blade section at the guard

33 * 4.5 mm – blade section 10 cm from the tip

1458 g - weight of the photographed sword